About Swayze Concrete Ltd.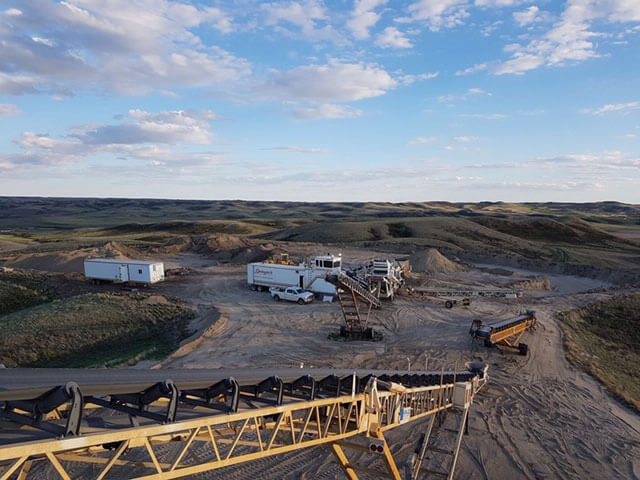 Swayze Concrete Ltd. is a family owned and operated business that has been servicing Southern Saskatchewan for over 60 years. The Swayze's were born and raised in south eastern Saskatchewan, As a third generation business, we operate with deep seeded family values with an emphasis on Customer Service, Honesty, Accountability, and Integrity.
Swayze's started out in the ready mixed concrete business over 50 years ago and along the way has expanded and diversified into a multitude of different areas. With five concrete batch plants/offices across the southern Saskatchewan in Carnduff, Wawota, Weyburn, Assiniboia, and Gravelbourg; as well as additional locations in Carlyle, Redvers, and Radville we have all the areas covered to be able to service our customers.
As a Family, Swayze's contributes its success to the outstanding people that work hard day in and day out. The key point to this success is the fact that the managers, office personnel, equipment operators, and truck drivers look after the day to day events as if they were their own. These people make our business work. They get the job done and provide the high standards of customer service Swayze's strives to maintain.
Swayze's wants to make sure everyone gets home at night is it is of the upmost importance. We take pride in providing a safe work environment for our employees, clients, and the public. Subscribing to registries like ISN and Comply Works allows our customers to keep tabs on the progress and success we have had within our Safety Program.
On the aggregate side of the business, with access to over 30 different gravel/sand pits across our service area, we are able to provide any type of gravel, sand or rock product that is required. Our fleet of tractor trailers armed with end dump and belly dump trailers are able to handle road and lease gravelling, stockpiling, general aggregate delivery. We are available for hire to haul any material you may have. We have two crushing spreads, a screen plant, wash plant, and our aggregate dryer insuring supplies as needed. Handling the production of all of this aggregate, for ourselves and for our customers, are Swayze's crushing crews. The production side of things is typically running 24/7 to keep up with the demand.
Five concrete plants and over 60 years as a concrete producer paired with the knowledge that comes with it adds up to a promise that whatever the demand might be and wherever the project is in southern Saskatchewan, Swayze's will be able to supply you with a quality product at the pace you need to make the job run on schedule. Placing concrete with up to date equipment and operators that are rooted in the customer service background guarantees that the best interest of the customer is taken care of.
As Saskatchewan grows, Swayze's has been able to grow the Sewer & Water division it started years ago. Starting out in small town Saskatchewan, providing the services to new houses in the course of basement excavation as well as completing emergency or routine repairs was, and still is how Swayze's developed its expertise and credentials to maintain a 24/7 on call relationship with numerous small towns and cities across the southeastern province. With the opportunity that Saskatchewan has provided, Swayze's has expanded into construction of water, sanitary, and storm mains for upgrades and new subdivisions. The expansion has brought on brand new equipment such as excavators, compaction equipment, sewer inspection cameras, GPS surveying equipment, trenchless technologies, and not to mention the highly specialized crews.
A portion of the company has been devoted to providing the oil patch with a level of service that is second to none. With all of the service areas of the company being utilized, as well as oil patch specific services (tandem/backhoe unit, lease grading, contaminated soil excavation and hauling, lease mowing, and our specialized snow removal service with THE MOG) we look after the needs of the customer whenever they need it.
The diversity of Swayze's has been a great success story for our family. It has provided opportunities to show growth even in the years labelled as recession years or slow years. It has challenged us to begin new ventures which have turned into key components of our business.
Swayze's diversity and our commitment to customer service has privileged Swayze's with obtaining the forever important "1st call" from a long list of satisfied customers. Moving forward Swayze's remains committed to the ideas that began back in 1960: Customer Service, Honesty, Accountability, and Integrity.